Occupational therapy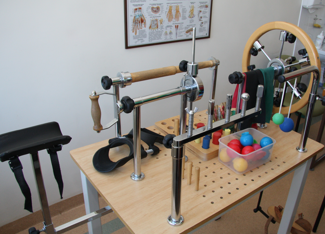 Ergotherapy (or occupational therapy) (in Greek the word Ergon – work, therapy – treatment) is a treatment to faciliate or restore patients' functional capabilities through purposeful activity in order to help patients to live independently by taking into account their wishes, needs and social requirements. The patients are encouraged to maximize their functional independence in all areas of life.
The main aim of the occupational therapy is to teach the patients to perform basic activities, tasks and roles to ensure their productive life, self-control and control of environment.
Occupational therapy is applied in case of:
Injuries to musculoskeletal system (bone fractures) and diseases (osteoporosis, arthritis, arthrosis, etc.);
disorders of nervous system (brain and spinal cord injuries) and diseases (carpal tunnel syndrome, discogenic hernia, stroke, neuropathy and etc.).
soft tissue injuries (scars which restrict the movements of the hand; damage to ligaments, muscless and tendons) and diseases (epicondylitis, tendovaginitis et al.).
Taking into account the patient's functional and mental health the occupational therapy procedure may be:
active,
semi-active or
passive.
In addition, depending on the patient's functional and mental health, occupational therapy may be performed without any tools or by using some supplies and tools (various balls, pins of varying degree of resistance, rubber bands and etc.).
The procedure helps to:
increase the range of motion,
train fine motor skills,
strengthen weak muscles,
improve circulation of blood,
improve coordination.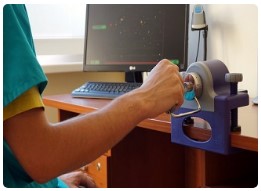 E-LINK Upper Limb Exerciser is designed for individuals who need a more effective upper limb function recovery. During the procedure the exercises are performed with a special tool in the form of a game on the computer screen. The movements are evaluated and presented in statistical charts. The exerciser is suitable for patients of all ages, particularly the ones who suffer from the wrist joint pathology. E-LINK exerciser is functional; different types of gripping activities can be performed, using wrist movements in all possible amplitudes, including the smallest joints. The Exerciser has eleven different tools for performance of movements – they can be easily and quickly changed